State & Trends of Carbon Pricing 2021 Executive Summary
Introduction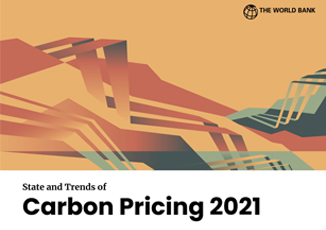 DOWNLOAD
The annual State and Trends of Carbon Pricing report provides an up-to-date overview of existing and emerging carbon pricing instruments around the world, including ​international, national and subnational initiatives. It also investigates trends surrounding the development and implementation of carbon pricing instruments and how they could accelerate the delivery of long-term mitigation goals. Specifically, this includes the use of carbon taxes, emissions trading systems and crediting mechanisms. International cooperation on carbon pricing and the status of work surrounding Article 6 of the Paris Agreement is also canvassed.
The carbon pricing landscape
A carbon price sends a financial signal that encourages companies and individuals to reduce their emissions. They can play a useful role within a broader suite of policy instruments that tackle other market failures and climate challenges. Research and development or sector-specific regulations, for instance, will also be necessary to reduce emissions outside the coverage of the carbon price or to address barriers apart from price. The State and Trends of Carbon Pricing looks at explicit carbon prices enacted by a government mandate and impose a price based on the carbon content. This includes carbon taxes and emissions trading systems. Crediting mechanisms can also generate credits from voluntarily implemented reduction or removal activities and these are included in the report. Finally, how companies use an internal carbon price to guide investments decisions and/or as an internal carbon fee is also included.
This year's report focuses on the proliferation of net zero commitments by governments and corporates and its impact on carbon pricing instruments. While the growth in net zero commitments is a positive sign for climate action, these announcements also need to be backed up by ambitious short- and medium-term action to put jurisdictions and companies on a path to achieve net zero in the next thirty years. Against this backdrop, what role will carbon pricing instruments play and how will they be designed in order to reach net zero targets?
Carbon taxes and emissions trading systems
This year's report showcases early signs of more ambitious carbon pricing policies. In the European Union, allowance prices have hit all-time highs as the bloc steps up their short- and long-term climate ambition following the announcement of the Green Deal last year. This may also see more changes to the EU Emissions Trading System (ETS) to align with these more ambitious targets. Increasing price trajectories have also been set in countries like Canada, Germany and Ireland. In the Pacific, New Zealand's Climate Change Act also establishes a national mitigation framework for its climate policies, including its ETS, in line with a 2050 net zero target.
Countries are also re-examining how they manage climate ambition while encouraging their industries to maintain competitiveness, with several governments investigating the potential of carbon border adjustment mechanisms, most notably the EU.
2021 was also the start of the world's largest carbon market, with the start of China's national ETS. Initially covering emissions in the power sector, the market will regulate around 4,000 MtCO2 or 30% of its national emissions. The UK and Germany also launched national ETSs and carbon taxes in the Netherlands and Luxembourg came into operation. In total, there are 64 carbon pricing instruments operating in 2021 covering just over a fifth of global greenhouse gas emissions (figure 1).
Figure 1. Map of carbon taxes and ETSs (2021)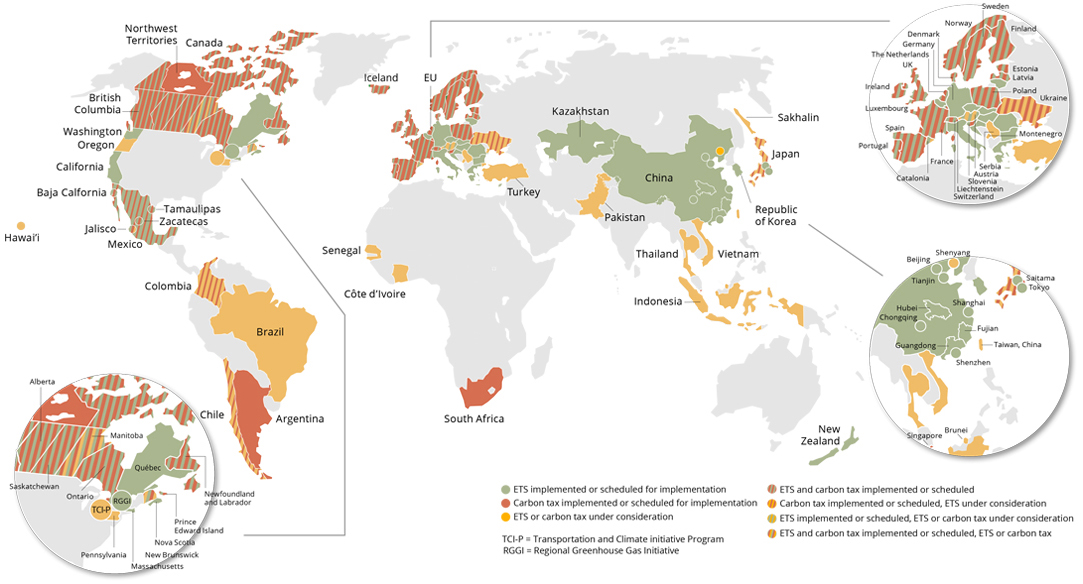 Despite the number of carbon pricing instruments in operation, short-term ambition lags behind what is needed to achieve the temperature goals of the Paris Agreement. Countries' climate plans continue to fall short and carbon pricing instruments are no exception. With less than 5% of carbon prices above USD 40/tCO2 – the bottom range of 2020 prices recommended by the High-Level Commission on Carbon Pricing – there is still significant untapped potential in carbon pricing to drive mitigation (figure 2).
Figure 2 Carbon prices in carbon taxes and ETSs (2021)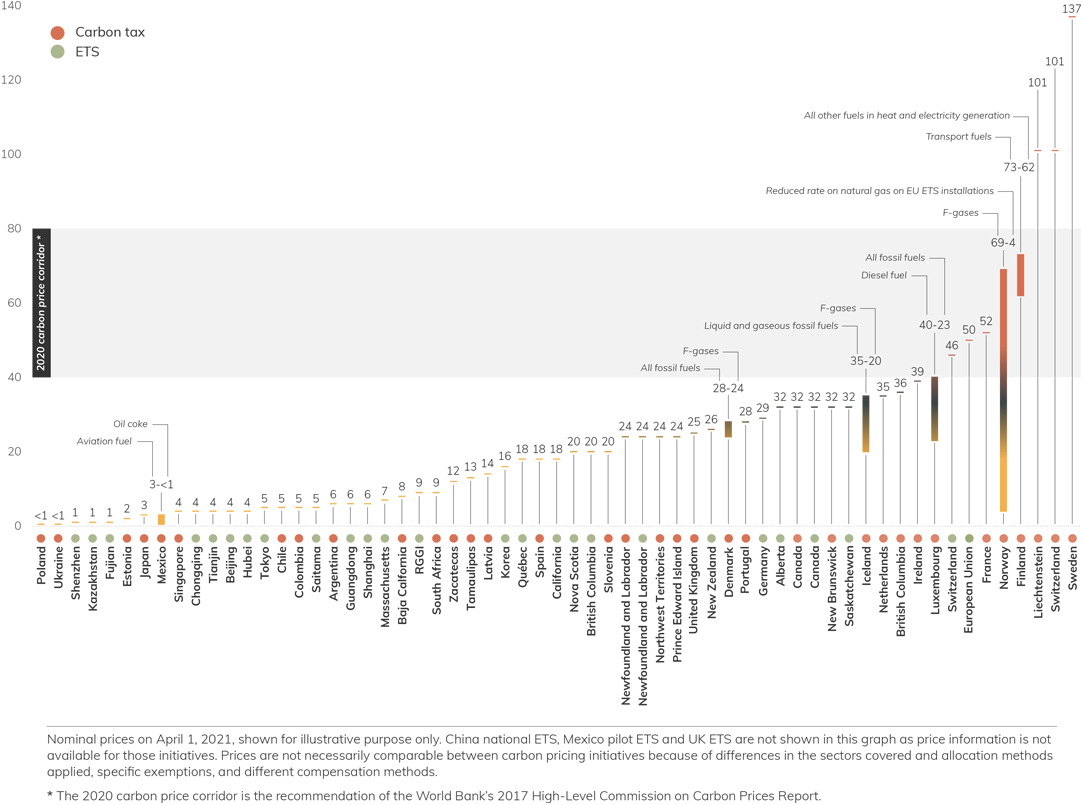 Crediting mechanisms
The past year saw a growth in carbon credit markets, with the lion's share of growth observed in independent crediting mechanisms that are generally used to meet corporate climate commitments (figure 3). However, these annual supply numbers remain far below the levels seen at the height of the market in 2012 near the end of the first compliance period of the Kyoto Protocol.
Figure 3 Cumulative issuance of credits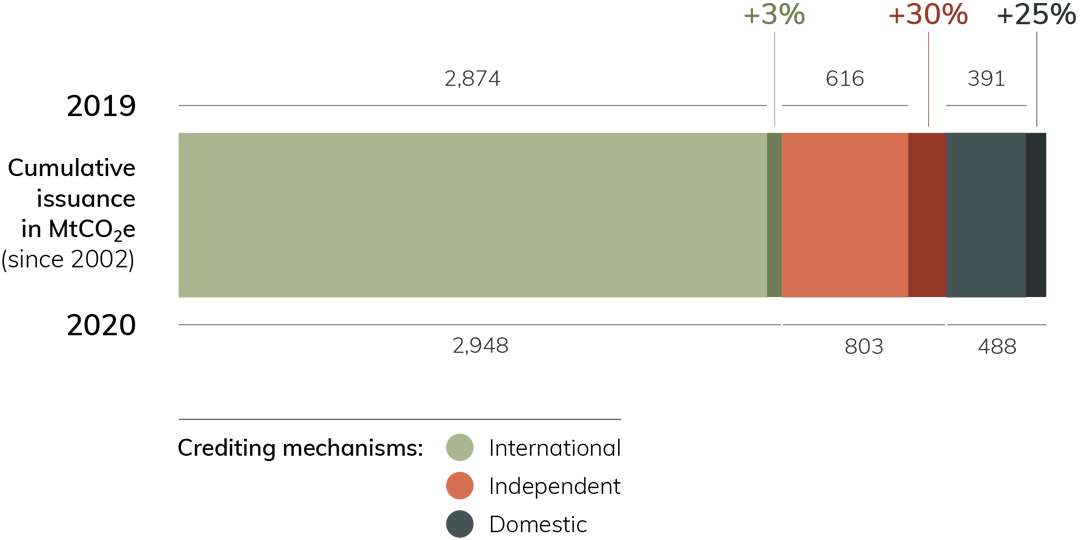 According to 2019 data, demand for credits is increasing and may continue to grow in response to net zero commitments. Financial actors are also getting involved in both compliance and crediting markets. In compliance markets, financial actors can play a useful role in mobilizing capital flows, maintain market liquidity and bringing buyers and sellers together. They can also develop derivative products that regulated entities can use to manage price and volume risk. However, this also creates risks as speculation can, at times, lead to volatility and governments will need to ensure there are robust financial market regulations in place to guard against this potential. In the voluntary crediting market, there is an increase in standardized products, reflecting a growing interest from the financial sector in this field.
The emergence of net zero commitments has also reinvigorated the debate on the role carbon credits should play as part of a broader corporate climate strategy, with increasing consensus that they should play a supplementary role. Other solutions will be required, and companies must focus on emissions reductions across their supply chain as a priority. In addition, taking steps to promote environmental quality of carbon credits remains of perennial importance. 
As the ramifications of reaching net zero percolate across the business community, there may also be a change in the crediting project landscape. Despite some moves toward prioritizing certain kinds of credits, like removals or a shift away from large-scale renewables, the voluntary market is likely to remain heterogeneous.
Internal carbon pricing
Nearly half of the largest 500 companies by market cap report the use of an internal carbon price or intend to use one in the next two years. Climate governance initiatives, like the Task Force on Climate-related Financial Disclosures, encourage the adoption of an internal carbon price and there is a growing correlation between companies that use an internal carbon price and those that have adopted a science-based target. Companies are also shifting to a more dynamic approach to setting an internal carbon price, shifting prices according to different benchmarks (e.g. emerging carbon pricing regulations), geographic regions or sectors. However, drawing firm conclusions on internal carbon pricing is challenging given the opacity and heterogeneity in how companies set and use an internal carbon price.
Download the report and graphics